Automatic Traub Type Single Spindle
The single spindle automatic lathe model TA, TLA and LA, are used for the manufacture of a great variety of simple, bolts, screws, unts, sleeves, etc. All kinds of materials such as steel, brass, aluminum can be machined on automatic lathes.
The model LA25, can machine round and profiled bars up to a max. diameter of 25mm (1"), TA25 having the same range of application. The models LA32(H) and TA32(H) have a spindle capacity of 32mm (1-1/4") with hydraulic stock chucking, bar material up to dia. 32 mm can machined. TA16 is for small material stock up to 16mm (5/8") and high speed turned parts.
For secondary operation of pre-machined parts, the automatics can be equipped with a magazine feed attachment or a hand chucking device if only small volume are involved.
The working scope of the basic machine can be extended considerably by the application of the various attachments.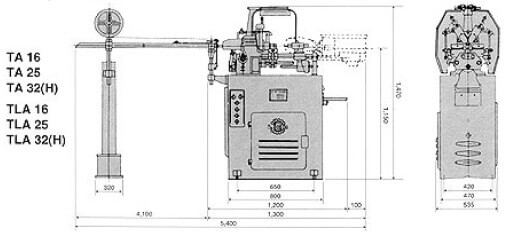 *Max. collet capacity:

25mm round for LA25/TLA25/TA25
32mm round for oversized LA32(H)/TLA(H)/TA32(H) machines
16mm roundfor TA16/TLA16

*Spindle speed:

LA25/ TLA25 150 to 4,200 rpm by 40 steps
LA32/ TLA32 150 to 4,200 rpm by 32 steps
LA32(H)/ TLA32(H) 210 to 2,300 rpm by 28 steps
TA16 700 to 7,500 rpm by 20 steps
TLA16 200 to 6,000 rpm by 40 steps
TA25 550 to 4,200 rpm by 12 steps
TA32(H) 300 to 2,700 rpm by 12steps

*Cross slide with toolholders, front and rear
*Double vertical slide with toolholders
*Tailstock with A-3 collet quill, draw bar and spring retraction
*Weight operated bar feed
*Adjustable swing stop
*Change gears set for feeds
*Automatic electrical shut off feed driven clutch and bar feed
*Cam setting dial
*Transparent coolant splash guard, front and rear
*Waterproof sealed fluorescent work lamp
*Oil resisting timing belt drive, spece counter for Mod. TLA16 / LA25 / TLA25 and LA32(H) / TLA32(H), good for drilling, reaming and theading operations during a working cycle.
*(H) models, the spindles are designed with hydraulic chucking system, and the mechanical chuck levers are not required.
*Available with or without the following special attachments: longitudinal turning, two-position air operated tailstock, four-postition mechanical turret, thread/polygonal milling, gravity silent bar feed ect.
*Standard type A15 / 25 TRAUB cams and tooling can be used and interchanged.